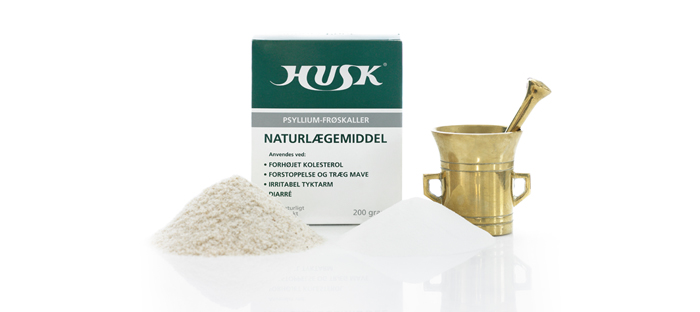 Calcium and fibres for the relieve of frequent diarrhoea
HUSK® with calcium is a mix of HUSK® Psyllium-husk, calcium hydrogen phosphate and calcium carbonate. You can use the mix if you suffer from frequent, severe diarrhoea. The product is mildly constipating. The fibres in the husks bind fluid in the stool and calcium neutralizes the substances irritating the intestines. Together the products can relieve severe diarrhoea.
HUSK® with calcium is only available in Denmark and is prepared by Skanderborg Pharmacy and Glostrup Pharmacy. The preparation is only available on prescription. You should therefore contact you doctor to get a prescription for HUSK® with calcium.
Hand in the prescription at your local pharmacy; they will then order the preparation from one of the two pharmacies for you.
Side effects
In the first few days the high fibre content can cause some stomach ache and more flatulence. In rare cases an allergic reaction can occur.
Read more about HUSK® Psyllium-husk in the patient information leaflet.