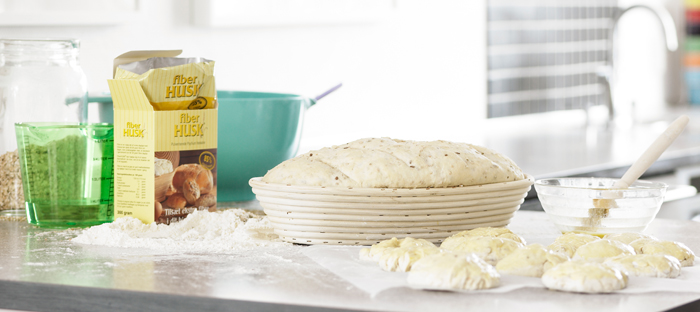 Fibre rich food with FiberHUSK®
FiberHUSK® is for everyone who would like a healthier, more fibre rich diet. For those living Low Carb, and for those living with gluten allergy.
Prepare delicious fibre rich food, bread and cakes with FiberHUSK®. FiberHUSK® is an all-natural product with no additives. FiberHUSK® consists of pulverized Psyllium husks from the Indian plant Plantago Ovata, containing 85 % water soluble fibres.
FiberHUSK® has a unique ability to bind fluid. The husks form a gelatinous mass and it is this positive quality that makes it possible to bake bread or cook food with many vegetables without it becoming too watery. Furthermore the water-binding fibres keep the bread fresh for longer.
Baking delicious bread with lots of fibres
The Danish Veterinary and Food Administration recommend that you eat whole grain bread with at least 8 g fibres per 100 g. When baking at home, it can be difficult to get a fibre content this high.
Using whole meal flour and kernels in bread is good and healthy, and FiberHUSK® can improve the whole meal flour's ability to rise. FiberHUSK® also ensures that you still get the recommended fibres, if you add FiberHUSK® when baking with white flour. Furthermore bread made with FiberHUSK® ensures a better sense of fullness.
With FiberHUSK® you can bake delicious bread with high fibre content matching the recommendations by the Danish Veterinary and Food Administration.
Learn how to use FiberHUSK® and see measuring units in our recipes here.
Low carb – when you want to cut down on carbohydrates
The all-time trend at the moment is living low carb. This means cutting down on carbohydrates and increase your intake of protein and fat.
Some follow the low carb diet to lose weight or just maintain a stable weight, others do it to keep their blood sugar levels stable and others again do it because they like the food and it makes them feel comfortable in their body.
Since low carb is about eating fewer carbohydrates, flour becomes one of the ingredients you have to avoid. However, flour is used as a binding agent in many dishes and can be difficult to get around. This is where FiberHUSK® can help you. The pulverized husks contain no carbohydrates, but lots of fibres. When the powder is mixed with water or other liquids it becomes a gelatinous substance, binding the other ingredients together. You can even bake bread and cakes entirely without conventional flour, just by adding FiberHUSK®.
Gluten-free baking
FiberHUSK® makes it easier baking gluten-free. Gluten is a useful component in flour giving the dough its elasticity and raising quality. This is why it is difficult to get a good baking result, when you bake with gluten-free flours like corn, millet, rice or buckwheat.
Gluten-free bread and cakes are often expensive and many coeliacs do their own baking. FiberHUSK® makes gluten-free baking easier. The pulverized husks in FiberHUSK® have some of the same properties as gluten, without containing a single trace of the allergenic protein. You don't have to worry about ending up with heavy or crumpling gluten-free bread or cakes. When you add FiberHUSK® to your gluten-free bread you will get fluffier and better formed bread and a firm cake.
All our gluten-free recipes are based on naturally gluten-free flours. Check out all our delicious gluten-free recipes.
Healthy food with extra fibres
Everyone benefits from a fibre rich diet and FiberHUSK® can be used for more than baking. You can add extra fibres to your minced meat dishes, fish balls or smoothies.